PRODUCTS LIABILITY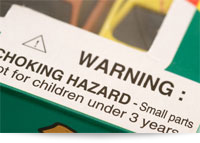 Safety of products used by consumers should be guaranteed. Businesses that design, manufacture, and market products have an obligation to test and clearly mark warnings for the safety of the consumer. Unfortunately millions of Americans suffer personal injuries each year due to defective and dangerous products.
The Law Office of Harry W. Haskins, P.A. will represent you or your loved one if you have been injured by a dangerous or defective product. Attorney Harry W. Haskins, P.A. will hold the negligent party or parties responsible whether it be the fault of the manufacturers or the distributors. With a legal career spanning over 45 years, Mr. Haskins is the expert you need representing your claim.
It is important to receive proper legal representation in a product liability claim as many large companies are well represented and will try to get you to settle unreasonably in order to protect their company. Haskins Law Firm will protect your rights and make sure you receive proper compensation for your injuries.
Contact Us Today
Protect your rights. For a free consultation contact Haskins Law at (941) 366-1388 or send an email to hwh@haskinslawfirm.com.